Gillian Thomas, The Pursuit of Poetry No. 1
Interviewed by Bryan Helton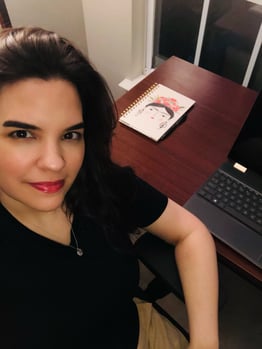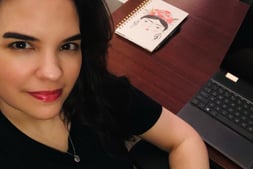 Bryan Helton
Can you tell me about where you grew up?
Gillian Thomas
I was raised in an urban suburb, which, at the time that I was growing up, was just beginning to find its way beyond being a mere nondescript medium-sized town, and blossoming into a bona-fide bustling suburb on the outskirts of Washington, D.C. It was really kind of a fascinating mix of areas, some of which included a lot of prosperity and people with money, contrasted with people like my family, who were lower-middle class and working class; if those terms are even still used these days. There was opportunity all around me, but due to a lack of personal resources, I didn't feel those opportunities applied to me. I can still recall being 16, a new driver, and going to see the big, fancy homes of Potomac, MD, staring from the windows of my used, beaten-down old Chevy and wondering how in the world such riches could exist only 20 minutes from the plain 2-bedroom apartment that I lived in.
BH
Was reading or writing poetry a part of your childhood?
GT
Reading in-general was a huge part of my childhood, thanks to my mother, who read to me regularly beginning around age 3. Nursery rhymes were probably my first introduction to poetry, and we read quite a lot of those. Later, my mother would read excerpts of Robert Frost, and most memorably, Sylvia Plath, whose work I connected with instantly as a teenage girl.
BH
How did your college experience influence you as a writer?
GT
Going to college in New York City was like being surrounded by poetry all the time. The MTA's "Poetry In Motion" was introduced in NYC in the 90s, and when I was in college there that was still very much an influence. I would ride the trains to and from school each day and see snippets and quotes from various poems lining the interior of the subways, and it was as if the softness of the words and the artistry of that were contrasting with the harshness of the city. Even though the subway train might be packed, you could look upwards at those poetic words and focus for a moment and just feel still.
In college, I majored in English with a concentration in Writing, but I was focused on fiction writing at that time. At some point, I took a Poetry course, and even though I had liked poetry in the past, I remember thinking, "This is the last type of writing I have an interest in. It's not my style, it's too "flowery" for me; the instructors don't focus enough on hard-edged poets like Bukowski or Plath or others that I might like." Then, all that changed. I began going downtown to Alphabet City, to the Nuyorican Café, and hearing live poetry slams and seeing poets perform their work as if it were performance art. They made the words come to life, and it definitely wasn't your grandmother's poetry. That was the turning point for me, and I was hooked from that point on.
BH
Who were your early poetry influences? Which remain with you today?
GT
I would say Sylvia Plath and her semi-autobiographical novel "The Bell Jar", which I first read while living in boarding house in NYC at age 19, was my first major influence. That's a novel, not poetry, of course, but it led me to reading even more of her poetic works. So many readers, poets, and young women in particular get "talked out of" liking Plath as they get older, and that's too bad. I still turn to her work regularly.
BH
Which contemporary poets do you enjoy? Which books have inspired you of late?
GT
Since my college days, I've counted Denise Duhamel as my favorite contemporary poet. When I found myself and my work side-by-side with hers in a journal recently (Gargoyle online) I was fangirling all over the place. I also love Sharon Olds, Terrance Hayes, and Carrie Shipers. Lately I am loving Sharon Olds' book Arias, and I also love reading the Best American Poetry series that David Lehman puts out every year. That series never fails to introduce me to new favorites, and helps to spotlight poetry that is current and fresh.
BH
How, when and where do you write?
GT
The very first poem I ever had published was written on shreds of dingy napkins in the basement of the nightclub I worked at in New York City, at 2 am. In fact, those exact words—shreds of dingy napkins—made their way into the poem. If nothing else, that experience taught me that you can do quality work from just about anywhere, at any time, even if lighting is dim and a thumping bass from loud music is blaring from above.
Now, I'm a parent with a hyper 10-year old, and a Miniature Schnauzer that likes to bark—a lot. I write throughout the afternoon, evenings, and nights, in snippets at 20-to-30-minute intervals, usually, and return to whatever piece I'm currently working on throughout the day and night until it's finished. Then, 3 to 4 days of editing begins. I have a work desk and I find myself returning to it in small chunks of time all day and night long, but honestly, I can write anywhere, and I think it's important not to restrict yourself. I used to tell myself that a writer should be writing during typical "work hours", but I am not, and never will be, a 9-to-5 person, so it's understandable that I'll also never be a 9-to-5 poet.
BH
Describe the journey your poems take from initial impulse to final revision. Does the pattern vary much?
GT
It's funny, but it seems the poems I've written that have made their way to print are the ones that I've written in a bit of a fury—the times when I've really let the words fly, with no holding back. There still has to be a strict editing process, though, and I always return to the piece regularly throughout the next few days to couple of weeks, to revise. If I'm happy and confident in a piece, it usually doesn't change too much from its initial form, but if I notice that a piece isn't getting much positive feedback from editors or attention from the journals I submit it to, I will often take another look, and perhaps try a shift in form; maybe a poem written in couplets becomes a prose piece, for example, or vice versa. That often makes a positive difference.
BH
Which part of the process do you find most difficult? Easiest?
GT
Like many writers, sometimes the most difficult part of the process is just getting started. As a poet, too, I know that once my words are finally on the page, I will likely want to change them, and the editing process looms large in my mind before I've even written a word! That can be daunting.
The easiest part of the process, I think, is when I manage to emotionally get out of my own way and just write—let the words fly, with no inhibition. If I can get to the place where I'm writing with honest emotion and not focused on thinking "Is this worthy of publishing?" or "What will my partner, or mother, or child think if they see this?" then I can usually really enjoy myself, and write a good piece.
BH
Can you tell me about writing 'Traveler' and 'Final Ground'?
GT
"Traveler" was the first poem I wrote after the murder of Gabby Petito. The story of her life and death resonated with me for multiple reasons: Both of us had lived in New York, both of us had been willful, free-spirited adventurers in our youth. Watching the YouTube video of her on the beach, I found myself wishing she had experienced those moments while alone, not with her abusive partner, and that imagery made its way into my poem.
I felt drawn to Gabby, and the more poems I wrote about her life and tragic death, the more I realized I wanted to do more than simply write about her and her story; I wanted to broaden the topic, and include poems on such themes as the unfairness of white domestic violence victims often receiving more press than victims of color receive, for instance. Broadening the topic to include themes of feminism and mental health were also important. I also wanted to take the personal—what Gabby had sadly experienced—and make it Universal. That, to me, is what poetry should always strive to do—take a singular experience and make it broader, more all-compassing.
"Final Ground" envisions Gabby during her ill-fated road trip, and tries to include some of her appreciation for nature and what she may have noticed regarding smell, sounds, and color.
BH
When you are not writing poetry, what are you doing?
GT
Two words: Board Games! We play everything from Monopoly to Dungeons & Dragons around here. My son is also a huge chess fan, and beats me more often than not. If I'm not doing that, I'm probably trying to stump my husband by speaking German, or pressuring my son to start learning French with me (we're total newbs at that one.)
BH
I'm very interested in how dedication to the art of poetry changes us as readers. What are some of your favorite books of prose? Novels, biographies, essays, etc? Why?
GT
My favorite book is probably "The Bell Jar" by Sylvia Plath. Having struggled with depression in my life, it resonated with me, especially in my teen years. I love anything by David Sedaris, since he speaks to my sarcastic side, and as a lifelong horror fan, I've read a whole lot of Stephen King. I'm also a big true crime fan, and have read all that Ann Rule ever wrote. I tend to prefer non-fiction over fiction, generally speaking, and I'm an avid reader of celebrity memoirs—very light reading, but great fun.